Socktoberfest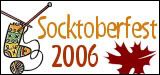 I've joined Socktoberfest! This was the perfect thing to join...all you have to do is knit socks. In October. That I can handle. Especially since I am doing them anyway. I've cast on for the Bubble Wrap socks from
Sockbug
using Lorna's Laces in Vera.
I've never really made adult size socks before so I'm not sure how this sizing this is going to work out. I can't seem to get myself to swatch for socks. With the time it takes, you might as well just start knitting the darn sock. So I'm using size 1 addi's and the pattern calls for 8 spi. I tried size 2 at first but it was immediately obvious that the fabric was too "loose". I was on a business trip and didn't have an opportunity to find a better pattern. The Bookland bookstore didn't have any sock knitting books, and neither did the Hancock Fabrics, the only two stores within walking distance of my hotel. Apparently there was a Hobby Lobby nearby, but since I didn't have a car, or shoes without heels, and also since Birmingham Alabama is apparently not a fan of having sidewalks, I didn't attempt it.

I suppose my problem is that I don't knit enough socks. I'm sure all of you know off the top of your head what your guage is with the most common sock yarn. Anyway, we'll see how this goes. Here is the questionnaire from Lollygirl:

When did you start making socks?
I think I first tried it last year, but really started to do it seriously this year.

Did you teach yourself or were you taught by a friend or relative? or in a class?
I took a class at a LYS, but I was sorry I spent the $75. It isn't that hard, and I could have taught myself.

What was your first pair? How have they "held up" over time?
My first attempt was not a "pair". I tried two worsted weight patterns using wool-ease. One came out good, the other did not. I never made the mates to either one. My first real pair was a gift for a child who has probably outgrown them by now.

What would you have done differently?
I still have the mateless socks, so I should probably make a second one.

What yarns have you particularly enjoyed?
I really liked the Knitpicks sock yarn to start out with. It was inexpensive and came in pretty colors. Great for learning and you can even buy dyeable sock yarn there. Now I enjoy superwash or cotton...I wish more sock yarns came that way. Wool socks are nice but they are hot and a pain to clean, not to mention impractical for kids. I am dying to try socks that rock and koigu though. The colors are amazing. I love variegated yarn, can't get enough of it.

Do you like to crochet your socks? or knit them on DPNs, 2 circulars, or using the Magic Loop method?
I think I have crocheted some baby socks before, but I wouldn't do them for adult sizes..too cheezy looking. I prefer magic loop (thanks to Kerry)! I really don't understand how people prefer dpns..too much fiddling! Magic loop is so easy to learn and really makes things easier. I use 40" addis.

Which kind of heel do you prefer? (flap? or short-row?)
I've only made a flap heel...guess I should branch out, huh?

How many pairs have you made?
I have never made a pair for myself. The socks for Socktoberfest will be my first pair just for me! I mostly make them as gifts for babies and children (see my Warm Feet Warm Hearts project over there on the side bar ---------->) I think I must have made about 7 or 8 pairs so far.

I have to seriously rethink my knitting list. Apart from my socks, I have the following:

Entrelac baby blanket (20% done)
Jasmine edge baby cardigan (1% done)
Some kind of pink scarf with sock yarn I love
White baby blanket for Presentation Day
Booga Bag
Cotton table runner for new fabulous dining room table

Crappy list, I know. I really want to knit myself a cardigan and the Lace Wrap from VK Fall 05. And I haven't even THOUGHT about Christmas knitting (I'm leaning towards THINKING I'm not going to do any this year). I want to do the wrap NOW, like go to AC Moore (Patons classic wool is all I need for that) tonight and cast on. I see everyone in the city with these chic wraps now that the weather is cooler and I want to be just like the cool kids too. If I wait much longer I'll need to be knitting a parka. Okay so wrap, white blanket, then Booga and then table runner. Screw the baby cardigan, the entrelac baby blanket can wait some more, and I still have time before I'll need a scarf. Now I have to research which cardigan to make and fit that in somewheres. I need to measure myself this weekend. I'm terrified to make a sweater that I'll hate.

That's why I love socks.